11 best hotels in Hakone
Our top picks
Lowest price first
Nearest to
Best reviewed
Fast facts about Hakone, Japan
| | |
| --- | --- |
| Accommodations | 875 properties |
| Popular hotel | The Prince Hakone Lake Ashinoko |
| Popular area | Hakone |
| Nightly rates from | $13 |
| Reasons to visit | Nature, Sightseeing, Spas |
Discover the neighborhoods of Hakone
---
5-star hotels in Hakone
---
Hakone Kowakien Tenyu met my expectation in every way. We are a family of 4 and have booked 2 rooms for our stay. Our flight to Tokyo was delayed by 2 days due to Typhoon so we didn't have time to enjoy Hakone before our hotel checkin. We had a day tour in Tokyo instead and was dropped off to the hotel by our driver at 7:00pm. Due to our change in plan, we had to c...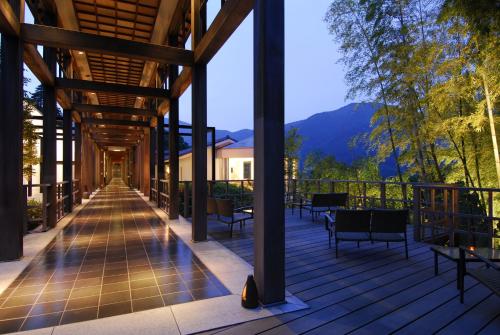 ---
After been to Japan for countless times, this facility is among the best hotels I've lived and probably the best ryokan in the region. Definitely recommended.
---
Having previously visited Hakone ten years ago, we really wanted to return after a busy few days exploring Tokyo. Hakone Hisui is a beautiful, and relaxing retreat; a place where you can really kick back and restore the equilibrium amongst the peaceful surroundings. Please note, the hotel mainly caters to Japanese clientele, so English is not widely spoken. However,...
---
Love everything about this rokan! the fridge was filled with all kinds of drinks, the private onsen just right outside of the room, the service! dont hesitate to book this hotel
---
Traveler impressions of Hakone
Stores and most restaurants close too early. Would be nice to have more English translation on the train.
Hakone is a beautiful place with nature where you can see mountains, lakes and maple leaves (Autumn season) their transportation are slow but nice and calming.
There are many hiking trails. We only stayed 2 nights so we only had time to visit Lake Ashi and hike around Hakone Sekicho.
We stayed at a ryokan. My wife and I enjoyed the scenery and the onsen. The cable car ride was interesting, but there really wasn't much to see other than the sulfur pits.
hakone was a peaceful and relaxing place to visit. with numerous attraction and less people, it was a change from the hectic busy days in Tokyo
People are not so friendly specially the bus drivers. The last trip is only up to 9pm. Fares are so expensive.
Local there is super nice, we are lost at the hill side due to two hotels with same names by iPhone 6.
You really must see this place and recommend you stay two nights or at least give yourself time to experience all that it has to offer.
Overall it's a nice hotspring city to visit to let you stay away from the hustle in the city yet enjoy some nice food and buys in some small shops.
It's a famous hot spring area. Very peaceful & comfortable to walk around the forest. It's quite dark at night, but no worry, Japan has the lowest crime rate in the world.
Yick Kan
, Hong Kong SAR, China
Love this place! There is Gotemba Factory outlet nearby, you can see mt FUji on a clear day and plenty of sightseeing opportunity!
It is easy to drive around and the hotsprings are relaxing. It would be better to spend about 5 days stay so as to see and enjoy more around the place.
Loved Hakone! 1 day is not enough, would come back again and for longer stay for more relaxing experience!
Definitely a must visit if you are visiting Japan. If you travel between Tokyo-Kyoto, just stay here for a night, be sure to go early.
Full of onset every corner that you turn. We were even able to soak our tired feet in a hot stone pool outside a shop for free! There are lots of food to try and taste for free too and one can decide to buy back home after trying or simply walk away and yet not be stared at or scolded for tasting and not buying.
Lovely place for sightseeing and relaxation. Buy the Hakone pass to access free and cheaper facilities around the area.
A great place for rest and relax with onsen, don't be surprise you might end up seeing Mount Fuji while onsen if you have chosen the hotel near to it.
Hakone is beautiful!, one caution though is to avoid vacationing there on a public Holiday in Japan as it can get too crowded.
Hakone is about 2hours train ride from Tokyo. Compared to the buzz of Tokyo, Hakone feels like really quiet and peaceful.
Male staff are very nice and friendly. The hotel also gives a free one-way bus tickets from the hotel to Hakone yumoto station.
There are many places of interest. Get the 2-day Hakone pass from Odakyu Company. Worth the value.
plenty of mountains, lakes and onsens. Open air museum, safari park, mt fuji, theme parks, quality food will fill a good week of holiday break easily.
Kok Huat Richard
, Singapore
If need to take the shuttle bus to hotel by route A, B, C , need prepare changes, there's not accept to use any IC card.
A place to be missed for a long time - a must see place with beautiful lakes and the magnificent Fuji san
Hakone was a great small town. Very clean as expected from any Japanese town. Lots of souvenir shops and many sushi and sea food restaurants as well.
Hakone is pretty but ridiculously crowded (at least on the weekend we were there). There is a bus and train network but expect all the transportation to be standing room only and to have a 30-min+ ride while packed like sardines.
Hakone is a great place to stay for 1-2 nights. We bought a 3-days pass travel from Shinjuku to Hakone, and we have free ride with all the public transport within Hakone area.
Hakone provided great sightseeing tours with the Fuji mount. view and the lake. Besides, there are also a lot of attractive locations for handicraft and art works to visit.
It is nice to stay here and do on-sen.. You should stay up higher on the mountIain.. Check the time table for public transportation properly otherwise you will end up with expensive shuttle car.
even thought it's a little bit difficult with the transportation because the schedule for the transportation is limited, but if we maintain our time , we can get all the attraction there.
---
Hakone's best hotels with breakfast
---
Frequently asked questions
What's the average price of a hotel in Hakone?
The average price for a 3-star hotel in Hakone is USD 263. The average price for a 4-star hotel in Hakone is USD 402. The average price for a 5-star hotel in Hakone is USD 717.
What's the average price of a hotel in Hakone this weekend?
The average price for a 3-star hotel in Hakone this weekend is USD 430. The average price for a 4-star hotel in Hakone this weekend is USD 501. The average price for a 5-star hotel in Hakone this weekend is USD 913.
What's the average price of a hotel in Hakone tonight?
The average price for a 3-star hotel in Hakone tonight is USD 332. The average price for a 4-star hotel in Hakone tonight is USD 540. The average price for a 5-star hotel in Hakone tonight is USD 790.
What are the best hotels in Hakone near The Hakone Open-Air Museum?
What are the most popular hotels in Hakone?
What are the best hotels in Hakone for couples?
What are the best hotels in Hakone for families?
What hotels in Hakone have the best views?
What hotels in Hakone have the best breakfast?
What's the best neighborhood in Hakone to stay in?
Popular neighborhoods among travelers staying in Hakone include Hakone and Odawara.
Explore more travel vacation rentals
More about Hakone
Located about three hours to the west of Tokyo, Hakone is a beautiful city of mountains, lakes, and relaxing hot springs. The small city doesn't have its own airport, so the best access for international visitors is to fly into Narita Airport and take a train to
Owakudani Train Station
.
Because of the area's mountainous landscape, hiking is a popular way of enjoying the elements while also trying to get views of Mount Fuji. After a long hike, perhaps take advantage of what many of the hotels in Hakone feature - the ever-popular Japanese activity of soaking in a therapeutic hot springs bath. The
Hakone Kowakien Yunessun
is a favorite destination for experiencing these baths, and the place offers exciting options such as a very unique sake bath, as well as many other creative varieties.
On the picturesque
Ashinoko Lake
can be found the Fuji-Hakone-Izu National Park, a very popular destination for people who visit this area. The active volcanic activity makes it a great draw for hot springs and spas, which is a very popular activity in this region. A visit to a hot springs bath found in this area, while enjoying stunning views of Mount Fuji, is the ideal and typical experience.
There are many museums in Hakone, but the
Hakone Open-Air Museum
is an art and nature lover's dream, offering stunning artworks and sculptures in an open-air setting. In a region that is famous for its unique air and stunning natural landscapes, walking around a park-like structure full of art work is a great way to spend a relaxing day.
Find out where more of the hotels, attractions, and must-see destinations of Hakone are located by exploring the interactive map on this page.